I'm linking up with Amy at
24/7 Teacher
for her first linky party sharing fun summer news. And boy do I have big news...
My dad is on Pinterest!!!!!
The man who won't join facebook and has a cell phone that literally only makes calls is downstairs pinning away as we speak. I LOVE IT! I knew he would like it if he tried it, but he wasn't going to try it without a little push. So when I came to visit my parents this week, I gave him the shove into hopeless addiction we all know so well. =)
***THIS JUST IN: My 91 year old grandmother just sent an
email
!! What is going on?!?!?!
In other random bloggy news
:
You know how bloggers leave comments with their links at the bottom all nice and neat? I wondered "How do they do that?" so I asked my real life BFF Melissa at
Don't Let the Teacher Stay Up Late
. Click the pic for a link to her blog if you'd like to know how to put your blog link in a comment.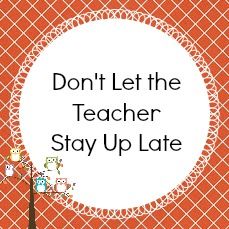 It involves html codes which makes me feel like a total
computer whiz
! I post this because I accidentally deleted the post-it note that had the html code for my link, so I had to surf through Melissa's old blog posts to get it again (that made me feel less computer whiz-y). I thought, "While I'm here, let me re-post this for anyone who needs this info." Hope it helps!