We just finished our shape unit on 2D and 3D shapes. I found some new shape ideas over the summer that I was excited to try out, and they worked REALLY well (don't ya LOVE when that happens?!)! A lot of these ideas and (FREE) resources came from Kindergarten, Kindergarten's blog
here
,
here
, and
here
.
Here the students answered the question: Can you completely fill a circle with squares? The answer of course is no, but this led into a discussion of curved sides vs. straight sides.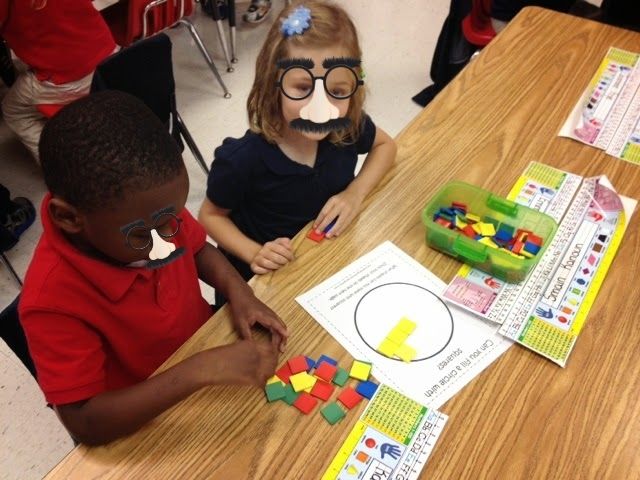 Click here for the free circle sheet
Then we created shapes using other shapes. We used the pattern blocks to make triangles and hexagons. We took a gallery walk around the room (or as my kinders call it, "a snake walk") and saw all of the different ways to do this, and talked about how sometimes different answers can both be right.
Click here for the free triangle sheet
We also did a lot of sorts. A LOT of sorts.
We then moved into talking about shapes in the environment. This kind of stumped some of my kids, especially telling the difference between a square and a rectangle. To practice, I cut giant shapes out of butcher paper. Then each child got a magazine and cut out as many shapes as they could, gluing each one to the corresponding piece of butcher paper.
The Finished Product
Let's not forget the power of anchor charts. Even though I'm not a cute-cutesy person and so my anchor charts are plain-jane, I love using them for the kids to refer back to.
I didn't take many pictures of our 3D activities, but we brought in
3D shapes from home
,
took pictures of shapes
and put them on our class instagram, had a
snack sort
where we sorted cheese balls, bugles, and other 3D shaped yummies, and experimented with how 3D shapes
roll, slide, and stack.
We used the interactive projector to sort 2D shapes and 3D shapes...
a Rafflecopter giveaway